While Elizabeth is at her faculty orientation in room B107, I'm hanging out in the lounge putting together some maps in order to orient you to the city. Elizabeth will be getting her residency by Monday at the latest and then we can really start to pull things together. We will then get the car from the Peugeot dealer which will look a little something like this. We have to wait until then until we can get our own DSL line to our apartment too. So for now contact will remain a little spotty. We're hoping that we can skype from our DSL line. The Etisalat connection at the Mall of the Emirates makes it hard to. We'll see. You may have to click on the maps below in order to get a nice resolution that will be readable.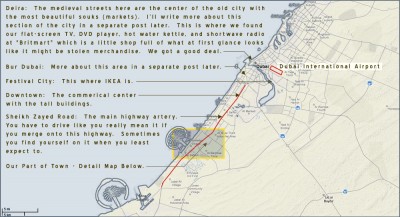 So here we have a broad overview of Dubai stretching from Jebel Ali in the Southwest to the old city section of Deira in the Northeast. The yellow box shows the boundary of the next map:




So this map shows you the neighborhoods where we spend most of our time. Getting to and from is not as easy as it looks from the sky. Once you commit to a road that looks and has a sign that says it is going where you want to go, you may end up looping onto the highway heading the opposite direction. Everything is still under construction so a lot of the roads are blocked off suddenly or turn into a one way going the other way with little or no warning. Everyone is doing U-turns all the time. It's just what you do. Each intersection has a sign that tells you if it is allowed there or not and it usually is.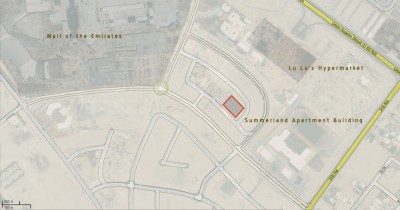 Here is our walkable neighborhood. I had to draw in some of the streets because Google maps had them not built yet. The satellite photo is also very out of date. It shows the mall under construction and has none of the apartment buildings which are now near completion. It doesn't show Lu Lu's hypermarket either. The Enoc gas station is right there off of Umm Seqeim Road as well as the place that we'll most likely get oil changes and the like. That road is a nightmare of traffic almost all day every day and we often find ourselves on it despite our best efforts. I also drew lines in the middle of some of the streets to show that they are continuously barricaded along the middle, one side of traffic flow from the other. This means that if you are turning onto the street you have to make a right turn. The only traffic light on the entire map is circled in green. There are no stop signs anywhere in Dubai except the occasional one when merging onto a highway where there is no merge lane at all.

I hope this helps you get a sense of the layout of things. Time to go meet Beth.