I'll have to get back to RAKWS since I showed up at closing time. But I did take some interesting photos from the perimeter of the reserve. From the website:
In October 2007 UNESCO, the Ramsar Convention's legal depositary, announced that the United Arab Emirates is a declared Ramsar partner and that the Convention will enter into force on 29 December 2007. The UAE's first Ramsar site is Ras Al Khor Wildlife Sanctuary (620 hectares), an area of sabkha saline flats, intertidal mudflats and mangroves, small lagoons and pools, and a few tiny islands which lies at the interface between the Arabian Gulf and the Al Awir Desert in the Emirate of Dubai – the name means 'head of creek' in reference to the 14km long watercourse known as the Dubai Creek, which is an important waterway in the area that serves as a focal point for the social and cultural life of Dubai.
During winter the site supports more than 20,000 waterbirds of 67 species and acts as a critical staging ground for the wintering birds of the East African-West Asian Flyway. The site hosts more than 500 species of flora and fauna and is one of the best-managed arid zone wetlands in the region. Located within Dubai city, it is an important tourist spot and received visitors from 98 countries in 2005-6. A marine biological field laboratory is present, and a visitors' centre is under construction.

I pasted some cropped versions of the photographs of this beautiful blue-winged bird together here. The shot in the previous image is copied into the upper left corner.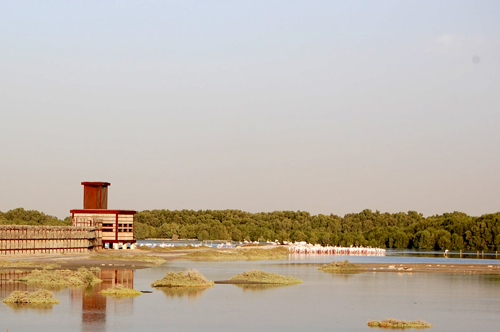 The famous pink flamingos! I'll get a closer look next time during visiting hours…