We picked up the car today at around 13:30. It took all morning to get it insured and registered and then we were finally in. Elizabeth drove it off the lot, or she would have driven it off the lot, except that when we got to the door of the garage, we noticed that the only way out was blocked by a big tanker truck that was filling up or emptying its contents. So we waited. Then when they were finished, the truck would not start. So we waited and waited. After a while Beth had had enough driving and we switched seats. And watched as the men tried this and fooled with that, and attempted to start it again and again. Finally one of the employees who was on his way home and who was also blocked by the truck got involved. Beth noticed that if the dealership had the keys to a couple of cars that were parked next to the truck that we could get around the truck and eventually that is what we did.




So we picked up our friend, Nina, and went to look for some art galleries.

And we found three after a little searching. It just so happens that they are in the neighborhood right next to ours in a warehouse district called Al Quoz. The first one we saw was the Third Line Gallery where there was a photography exhibit. Interesting use of fire with film and contact sheets as prints. Also a well put together narrative piece around love, ennui, and war in Jordan and Israel.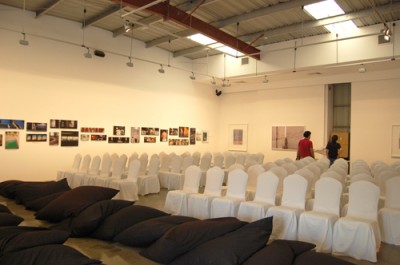 Then it was off to B21 where there were paintings by an Iranian artist. More than half of them were sold and the show was only up a week or so. The paintings were listed at about USD5000 each and so we were remarking more about how quickly art sells here than the show itself which was impressive in its stylistic consistency but not the aesthetic cup of tea that Beth or I would enjoy.




The last gallery we saw was the Jam Jar which is more of a community oriented gallery. They were setting up for a piece about Soffreh which is billed as a digestible food installation and performance piece. So of course we all got ourselves quickly on the reservation list for next week's performance. I'll be sure to write about that then.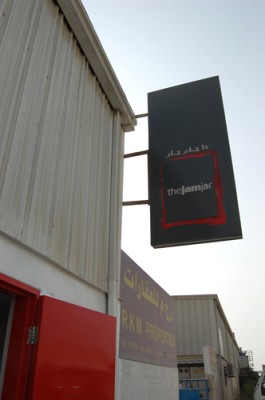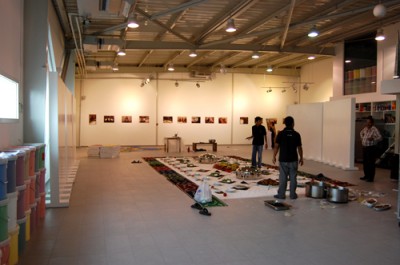 Nina had a dinner to attend at the home of the Dean of her school and so we headed off toward his part of town near International City. We got lost which was to be expected and we ended up at a mall in Mirdif where we dropped Nina off at a cab waiting there. It was too late to keep searching and we figured the cab would know the way. But as it turns out, we decided to try our luck going that direction anyway afterwards and of course Beth had been right about the way we should have been going all along. So we did find our way to International City, probably following close behind Nina's cab though we didn't see her. Right next to International City happens to be Dragonmart. It is one of the biggest malls in the world, the largest trading hub for Chinese goods outside of China, and it's dedicated to all things over the top. You can see it from space and it's even shaped like a dragon.
We loved it. Really there were some great things in there amid the kitsch, and some things that maybe just we thought were great. There were a lot of architectural interiors stuff like tile and fixtures and fabricators of things. Almost everything was extremely inexpensive and can be custom made to your specifications if you like.