If all goes according to plan, we will have the car Saturday. I apologize for the lack of new photographs this week. Not having a car is holding us back from doing more exploring. And we're really working now, Elizabeth at her job and me at landing one. I'm also writing a small article for a publication about Abu Dhabi despite the fact that I've never been there. And I've finally figured out this whole metric scale thing so that I can get down to really designing the tower for the competition that I entered into. But I promise to have something more graphic next time I write.

We attempted to get our liquor license yesterday, but we did not have all of our ducks in a straight enough row. We were missing a stamp from the University which we did not know that we needed. It's funny because the University is where the form came from so it's odd that they didn't stamp it before distributing it. We also need another ORIGINAL letter with a stamp and a blue signature declaring Elizabeth's monthly salary and we only had a copy of that. Additionally, I get to sign a letter as Elizabeth's husband that states officially that I have no objection to her purchasing alcohol, even though it is her job right now that is providing the means to do so which struck me as the most blatant establishment discrimination example that we have come across here. All of this just so that we can enjoy a little wine with dinner in our own home. We did get to walk into the store last night and it has a wonderful selection.

We have a 3.5G mobile USB modem now that just started working yesterday.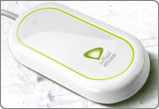 This means that I'm writing at this very moment from our apartment. It also means that I've been wasting time online more than I should be, but I'm making up for lost time. We can get phone calls now at our 412 number while we are at home and the computer is on. We had a nice skype call with mom and dad once this morning before they went to bed on the East coast and once this afternoon after they woke up (I think still on the East coast). And we had a call with Karen last evening too. We can't tell you all how thrilled we are to be out of the desert of mall internet. It's not cheap to have this thing but neither was paying the mall $5 per hour.

Elizabeth and I got up early and used the gym upstairs this morning for the first time. We couldn't figure out all the equipment but it was fun. I ran 4 times around the track with the treadmill and Beth used the bicycle and some of the weights. Tonight I think I might try and tackle the steam room…